Meet Pepper. Pepper as you can see is a robot and robotics is a major element in technology education at Middlesex University. Having Pepper, along with Nao and Baxter, allows students to get to grips with programming robots which is a key future skill.
Although these 3 are the popular image of a robot most robot's are designed for specific purposes so don't have quite the humanistic appearance they do. Designed to accomplish specific tasks they can vary considerably.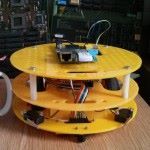 The students start with an Arduino based robot called Myrtle. More technically know as The MIddlesex Robotic plaTfOrm (MIRTO). This provides the framework for developing increasing complexity in robotics, which is the basis  for the more advanced work that follows. If you want to know more about MIRTO take a look at Franco Raimondi's Introduction and Version 3 update articles.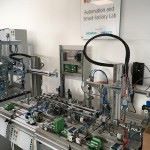 Of course not all robots move around and the facilities in the Middlesex robotics and haptics lab are enviable featuring over 100 workstations with equipment and software including CAD/CAM equipment, an integrated flexible manufacturing system, state of the art automation devices, LabView and Multisim tools as well as associated hardware such as NI-ELVIS training equipment and Compact Rio control systems.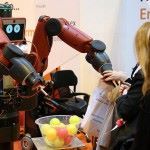 We have always been impressed with the work that we see coming out of Middlesex through our sponsorship of the First Year Technology prize. There have been some excellent entries (take a look at last year's winners) and check more info here.