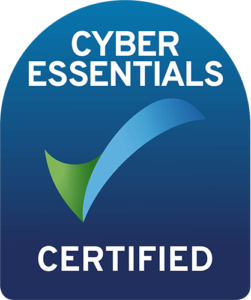 At SMXi Software, cybersecurity is not just a priority, it's embedded in our DNA. We're proud of our Cyber Essentials achievement.
In an era characterized by increased digital dependence and a rise in remote work, the prevalence of cyber threats has also grown. SMXi Software has proactively secured the Cyber Essentials certification to combat cyber threats and ensure a safe digital experience for our clients. This certification underscores our unwavering commitment to cybersecurity, ensuring that we're well equipped to combat common cyber threats like phishing, malware, and password breaches.

Understanding Cyber Essentials
Cyber Essentials is a government-endorsed program aimed at arming businesses with the necessary knowledge and tools to recognize and defend against routine forms of cyber-attacks.
The certification process involves a thorough evaluation against five crucial security controls. These controls are rigorously reviewed by a certified assessor before the certification is granted.
The Five Pillars of Cyber Essentials
In our journey towards Cyber Essentials accreditation, SMXi Software underwent an assessment of five critical security controls within our IT network. These include:
Firewalls
Secure configuration
User access control
Malware protection
Patch management
To meet these criteria, we collated comprehensive data from across our business, encompassing aspects like administrative access, the security status of company devices, network security, password strength, software usage, and employee user management.
Recognizing the need to involve all team members in our cybersecurity mission, we rolled out a new security policy to familiarize our staff with the newly established security measures.
Security by Design in Our Delphi Software As bespoke software developers, we have always been committed to integrating security into our software development lifecycle. Our Delphi software is built with 'Security by Design' principles at its core. This approach ensures that security considerations are not an afterthought but are built into our software right from the inception, thus enhancing the robustness and reliability of our solutions.
The Perks of Cyber Essentials Certification Being Cyber Essentials certified brings numerous benefits to SMXi Software and our clients:
Assurance to our customers and suppliers that we actively safeguard their data and sensitive information from cyber threats.
Eligibility to bid for government contracts and tenders requiring such certification.
Empowering our team to recognize and fend off common cyber threats.
Enhancing our appeal to prospective clients.
Complimentary £25,000 cyber insurance.
With the expert guidance of Bulletproof, a trusted cybersecurity company, we streamlined our journey to Cyber Essentials certification. Their expert guidance throughout the process enabled us to fulfil the certification requirements.
Our Cyber Security Journey Continues! Achieving the Cyber Essentials accreditation marks a pivotal milestone in SMXi Software's relentless drive to bolster cybersecurity and data protection.
The Cyber Essentials program has substantially expanded our understanding of cyber threats and has ensured that we have robust safeguards in place to counter them. We firmly believe in the importance of this certification and advocate other businesses to consider this crucial step in bolstering their cybersecurity measures.