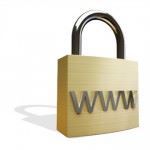 Think you do enough to remain secure while online?  Password security has been a hot topic recently (a subject we will return to in a later blog) but you need to be ever vigilant as more sophisticated threats emerge on an almost daily basis.  We've put together the following checklist to ensure your data and systems are never compromised:
Install hardware and software firewalls. One can catch problems the other may miss.
Install antivirus software. Your computer needs to be infected with a virus only once to realise the value of this step. After installation, make sure to always install the updates as they become available.
Never run .exe attachments or downloads unless you are sure of their authenticity. Doing so makes it way too easy for hackers to load a Trojan horse or execute malicious code.
Consider encrypting sensitive data on your computer. If your machine is compromised, your critical documents will be unintelligible.
Be wary of emails from people you don't know or trust. Delete any emails you think are suspicious. Delete the email from your 'Inbox', and delete it again from your 'Deleted' folder, or 'Sent' folder if you have forwarded on the email
Never click onto a link or an attachment in an email, obtained from a source you don't know or trust
Before entering any personal data, make sure that the address in the URL begins with https: to ensure a secure connection and that your data will be encrypted.