The latest version of GiftAider has just been released. This introduces a few changes that we think will make it even easier for you to use when using your Gift Aid Software to upload claims to HMRC.
We have changed the operation of GiftAider so that the claim data does not load as you scroll through the Submission List and will only show when you specifically request it. One advantage of this is that the app is much more responsive and you can scroll to the submission you want quickly. So when you click "Show Claim Data"

the data will be loaded and displayed. Once the claim data preview is visible it will stay in view but when you move to another Submission record the data will clear. To see the claim data for another submission either click the claim data title or anywhere in the empty table.

There is a new button that deletes all pre-submission data. This only shows when you are on the Pre-submission Claim Data tab. Be careful, if you subsequently need to submit this data you will need to re-import it.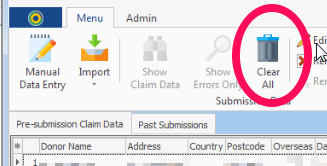 Another change is that you need to select the adjustment type from the main menu, rather than on the form itself.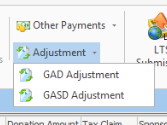 Additionally, when using this gift aid software, you can now view a record's details after it has been submitted. The Edit button displays the caption "View" in this case. It is only active when you are viewing Claim Data.