I had a great time at the Middlesex University Scholarship and Awards Event 2016. This was held in the Ricketts Quad – certainly a place to shock and awe.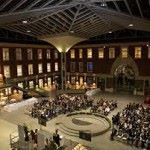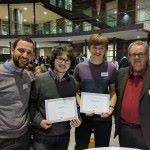 Systematic sponsors the First Year Challenge Award which is awarded to the winning team of first year computer science students who take part in a challenge building robotics applications. It was a pleasure to meet the winners again, Timothy Cole and Nicholas Fitton who won the award for their smart house project. I'm always impressed by the keenness of the winners of this award and the amount of work that they put in, as well as the staff who support the project Dr Giuseppe Primiero and Prof Franco Raimondi.
This year we shared a table with the winner and sponsors of The David Tresman Caminer Award which provides funding for a PhD project on the history of computing. The award is named after one of the pioneers of the LEO computer that was developed by J. Lyons and Co in the 1950s and widely acknowledged as the first business computer in the World. This year the award,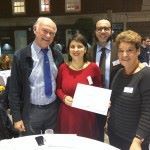 sponsored by the Association for Information Technology Trust, was won by Elisabetta Mori and I look forward to seeing the results of this research.